Robust video features for tackling any live production
With the V-60HD, you'll be able to handle any video project that comes your way. It allows you to cut and mix with cross-dissolve, full-additive, and non-additive transitions, and boasts 30 different wipe patterns. Seamlessly transition between six video sources and two still images using time-based correction and frame-synchronization. The V-60HD features an impressive complement of video connections, including four SDI inputs with a de-interlacer, two scaled HDMI inputs, one scaled RGB input, two SDI and HDMI outputs, and a multi-view output. The V-60HD's dedicated aux bus can be assigned to any of its four discreet SDI channels or HDMI outputs, giving you seamless switching from its input channels. There's also a USB port for uploading still images and saving program files.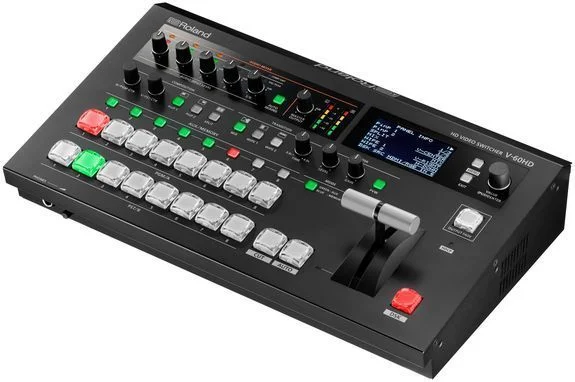 Get great sound with comprehensive audio features
An integrated 18-channel audio mixer equips the V-60HD for just about everything — it supplies four XLR/TRS combo jacks with phantom power and an RCA stereo pair, in addition to the audio de-embed from the six video inputs. The V-60HD is loaded with powerful preamps and effects, including a highpass filter, gate, compressor, 3-band EQ, and delay. You can also set the V-60HD to follow your selected video channel, so its audio passes through. A built-in Audio-Mixing function takes all of the guesswork out of achieving proper levels. Beyond that, discreet multichannel audio embedding makes managing multi-language events a breeze.
Convenient smart tally system and remote operation
One of our favorite features here at Sweetwater is the V-60HD's wireless tally system. This unique system uses a wireless router connected to the V-60HD to send tally information to your iOS or Android smart device. It makes any event run smoother, allowing talent and camera operators to identify which camera is currently active and which camera will be switched to next. Beyond that, an easy-to-use software application for your Mac or PC provides system remote setup and control.

Roland V-60HD Features:
Plug-and-play production switcher with audio for live event and streaming
Video I/O includes 4 SDI inputs with a de-interlacer, 2 scaled HDMI inputs, 1 scaled RGB input, 2 SDI outputs, 2 HDMI outputs, and 1 multi-view output
Cut and mix with cross-dissolve, full-additive, and non-additive transitions, and 30 different wipe patterns
Time-based correction and frame-synchronization yield seamless transitions between 6 video sources and 2 still images
Dedicated aux bus gives you seamless switching from the input channels
USB port for uploading still images and saving program files
Integrated 18-channel audio mixer equips you for just about everything
Audio inputs include 4 XLR/TRS combo jacks with phantom power, an RCA stereo pair, and audio de-embed from the six video inputs
Powerful preamps and effects, including a highpass filter, gate, compressor, 3-band EQ, and delay
Set audio to follow your selected video channel, so its signal passes through
Audio-Mixing function takes all of the guesswork out of achieving proper levels
Discreet multichannel audio embedding makes managing multi-language events a breeze
Proprietary tally system uses a wireless router to send tally information to your iOS or Android smart device
Remote setup and control via Mac or PC